Naked Lunch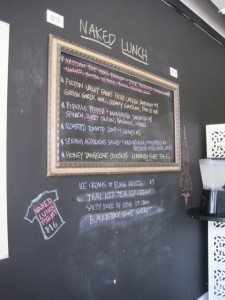 I am extremely grateful to BFF (Best Foodie Friend) Lisa for rescuing me today for lunch. Working from home, I tend to get lazy about my daytime meals and have exhausted every local Fillmore and Japantown eatery several dozen times over. I am ashamed to say that I don't think enough outside my local neighborhood and while debating between the $10 Bento Box and the La Boulange Niçoise salad, Lisa called and suggested a jaunt to North Beach to try the much-lauded Naked Lunch. With a menu that changes on a daily basis, Naked Lunch is the brainstorm of chef Ian Begg (SF Chron Rising Chef 2008), formerly of Café Majestic.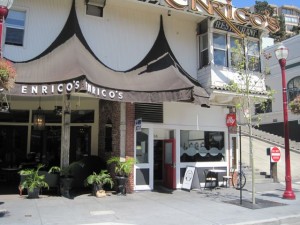 Both lunch and dinner menus are available but operating out of the adjacent Enrico's Sidewalk Café, dining in-house is only possible for lunch while dinner is take-out. While waiting for our order, we enjoyed a bag of 4505 Chicharonnes, a great balance of salt and sugar with a hint of chili powder. We also shared a Honey Tangerine Cooler.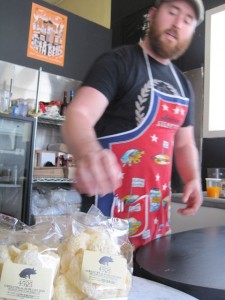 The staff was really great; apologizing at the lateness of our ordered salad by offering an amuse of Roasted Tomato Soup with a chive garnish. This soup must have been half butter for its richness. We were so happy with the chicharonnes, it didn't matter that our salad was going to take a little time.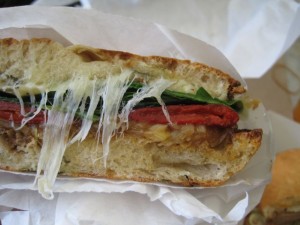 What I love about eating with Lisa is that we share everything we order and we have very consistent tastes; whenever I suggest a selection of courses it invariably is exactly what she would order and vice-versa. Two sandwiches which we decided to share was the Piquillo Pepper and Manchego Sandwich garnished with Spinach, Sweet Onion, Balsamic, and Herbs. Ripping open the paper and pulling apart the warm, crunchy bread displayed an almost erotic stringiness of melted manchego. This was one of those Perfect Sandwiches; just enough caramelized onions, not too much spinach to be bitter, and juicy bright peppers.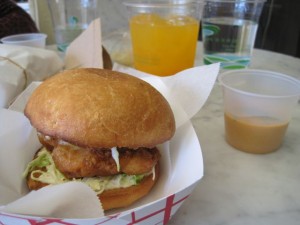 Regrettably, we arrived too late to order the Duck Prosciutto and Foie Gras sandwich with Black Truffle salt, but the Tuesday special of a Fulton Valley Farms Fried Chicken Sandwich with Green Garlic Aïoli, Buttermilk Coleslaw, on Pain de Mie was an ample condolence. Just the look of the bun itself was sufficient to know we had a treat before us; golden, warm, and spongy, this encompassed a supreme example of fried chicken. Here the meat was tender and intensely moist with a very light breading which provided a tender bite, complementing the creamy slaw. So many fried chicken sandwiches are so pervasive with breading, while this was far from the case here.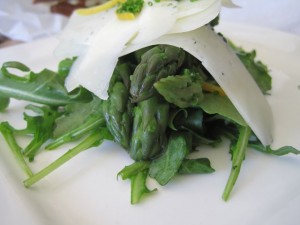 Our salad did arrive several bites into our sandwiches and while we were already getting full and knew we didn't need the extra food, were gratified at its simplistic elegance; a Spring Asparagus salad with Wild Arugula, Manchego, Preserved Lemon, and Chives. Any apologies that had been offered were entirely unnecessary and this simple preparation of clean ingredients were well worth the wait.
The best part about all of this? The price tab; at $28, we had a truly astonishing lunch with an incredible bargain to boot. The sandwiches were a mere $8.00 each, the salad was $6.00. $3.00 each for beverage and fried pork skins rounded out the tab and saddened me that I don't live closer or that going for the evening take-out menu is not more convenient.

Tags: Chicharonnes, Fried Chicken, Fulton Valley Farms Fried Chicken Sandwich, Honey Tangerine Cooler, Lunch, Piquillo Pepper & Manchego Sandwich, Spring Asparagus Salad, Tomato Soup