Sushi Aka Tombo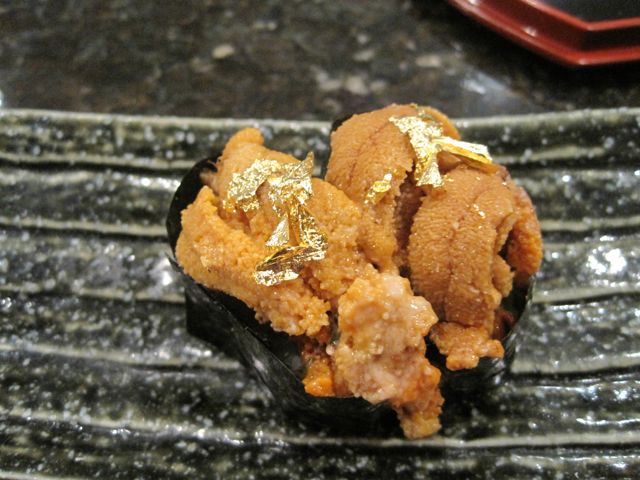 I like to delude myself that I have a pretty decent palate. And for some things, I think I do. But when it comes to sushi, I can't hold a candle to my buddy, Lisa. This is a woman who — if money were no object — could eat at the likes of Urasawa six days a week and not grow tired of it. So it was sort of ironic when we went out to dinner one evening at a favorite noodle joint, Tampopo, that after we left (with full bellies, mind you!), we saw the newly-opened Sushi Aka Tombo with only a few people inside. Well Lisa rates every sushi restaurant on their Uni so I suggested we go in just for a single order; sort of to determine if there was a reason to go back. Let me tell you, not only do I have a reason to go back, but I am not sure I can find better sushi in San Francisco.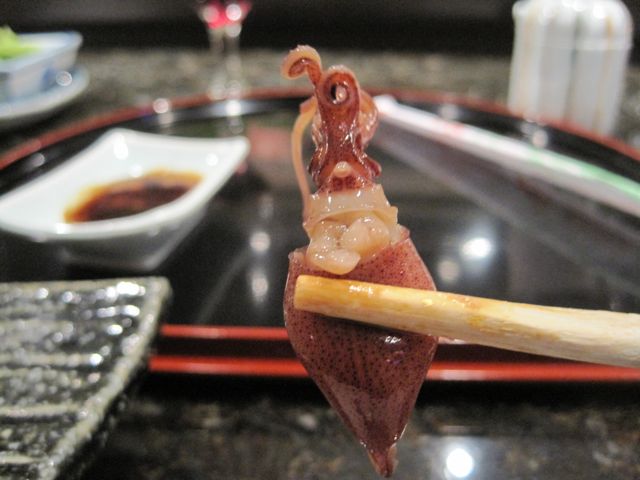 This review is, in fact, two separate visits. The first was Lisa and Cassy and I, sauntering in at almost ten in the evening, ostensibly to just try the Uni which, elegantly bedecked with 24k gold leaf was astonishingly fresh. But there were a few other treats being offered so we just *had* to stay. Baby squid were a surprise offering and proved to be very tender and bright.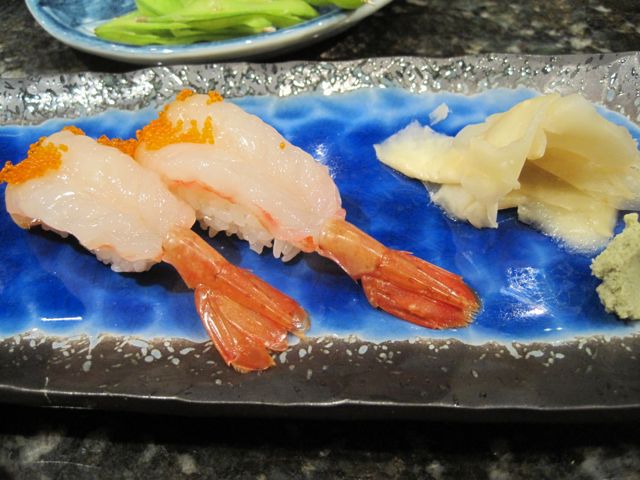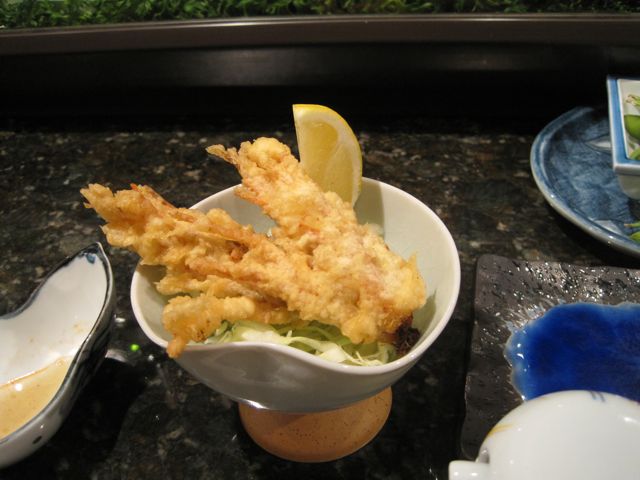 While Lisa judges her sushi restaurants on Uni, I rate them on their Ama Ebi. The sweet shrimp was delicately decorated with a bit of tobiko and my only minor fault of the evening was with frying of the heads; some of the longer antenna were broken off in the process and I particularly like those crunchy bits. But that is a minor complaint.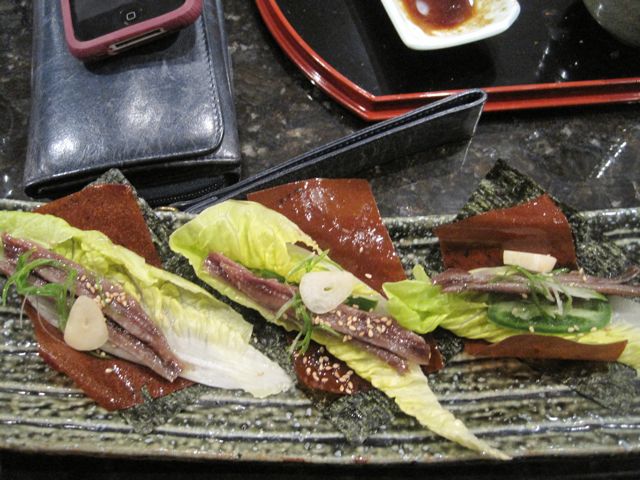 Our last taste of the evening was a special roll-up that Chef Yoji prepared; mackerel, nori, lettuce, jalapeño, garlic, and a bit of sesame. The saltiness of the fish complemented the fresh, spicy chili and clean crisp lettuce leaf. Watching the chef prepare an omakase for another table is what brought me back, this time solo.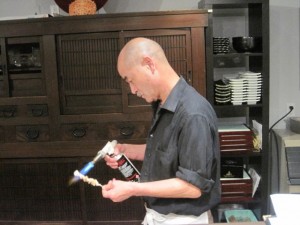 My solo visit occurred right after the Cherry Blossom Festival and while my first visit included a lot of face-time with the chef, after the festival closes in the evenings, it is often impossible to get a table at any restaurant in Japantown. I was lucky to be dining solo and be able to snag the end spot on the sushi bar. The staff were obviously overwhelmed, but were extremely accommodating. Upon sitting down, they pre- apologized profusely for any possible delays I might experience due to the crowd.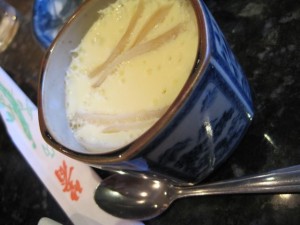 I didn't need to look at the menu and quickly ordered the sashimi omakase platter I had seen the chef preparing during my last visit. While the fish was being prepared, I was served edamame, chawanmushi, and a very clear, light dashi broth (sans miso) that contained some nori and mushrooms. The chawanmushi was warm and rich, with perfectly square brunoise of carrots in the brothy bottom of the bowl and tiny bits of shrimp encased with the custard.
Then my sashimi platter arrived. At $30.00, this has to be the deal of the city; ten different kinds of fish. I received one of the most impressive servings that included baby octopus, maguro, toro, nori-wrapped uni, scallop, yellow tail, amberjack, red snapper, and sweet shrimp. All served with fresh wasabi, fresh shiso, and shredded daikon. I had all this with a small serving of Dassai Migaki Niwari Sanbu, a clean polished sake that showed hints of green apple and honeydew melon.
This is now my sushi bar of choice and I couldn't be happier that it is within walking distance:
1737 Buchanan St
(between Post St & Sutter St)
San Francisco, CA 94115
(415) 674-1984
Tags: Ama Ebi, Mackeral, Omakase, Sake, San Francisco, Sashimi, Sushi, Uni