Yemeni's Restaurant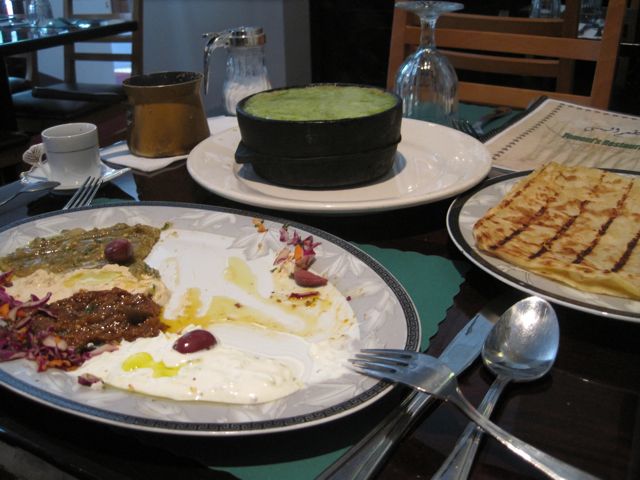 I stumbled across the newly-opened Yemeni's Restaurant on Sutter during a jaunt home this afternoon. Most restaurants are not open between 2:00 and 5:30, so I was pleasantly surprised to see the doors wide open. I stuck my head inside and asked if they were serving. Amber, the hostess, confirmed they were open all day and I took a seat, anticipating only a quick appetizer to curb some minor hunger pangs.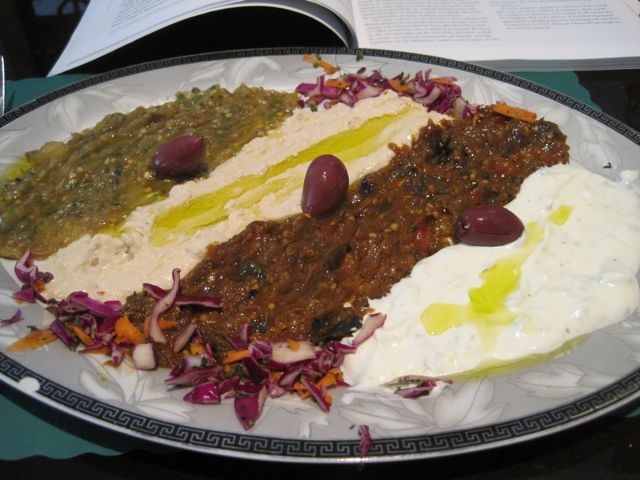 The appetizer platter came with a classic raita dipping sauce, baba ghanouj, hummus, and a third eggplant-based spread that was entirely different than the baba ghanouj and just as enticing. Studded with large olives and drizzled with olive oil, the plate was also surrounded with a little decorative slaw that was mostly unnecessary. I found the hummus to be extremely smooth; these are people who are peeling their garbanzo beans.  I wish I had taken notes on the difference between the two eggplant spreads; one green and a bit piquant and the other (assuming to be the baba ghanouj), with a red pepper base and distinctly more garlic. This was served with very freshly made, warm paratha bread.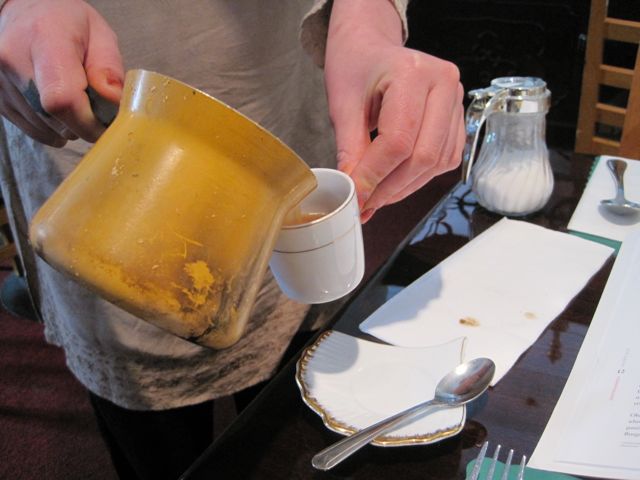 Amber, my waitress, was very patient as I took copious notes (which I seemed to have lost on the way home!), so I don't have all the names of the spices that I wanted to remember. I do, however, remember the special Yemen coffee she recommended. Made with the dried husks of the coffee beans and spiced with ginger and cardamom, Qishr is more of a tea than coffee. It is pale and smooth with hints of the added spice, it did not have the strong tannins of an actual tea nor the bitterness of a brewed coffee. I added a touch of sugar and was very intrigued.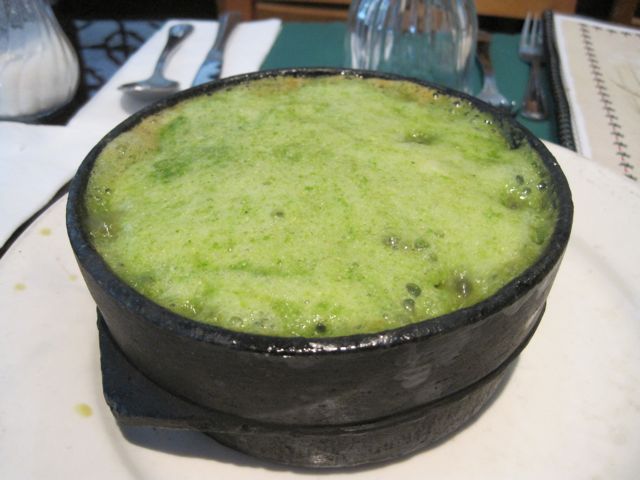 Even though I was very full, chatting with Amber had me intrigued at the national dish of Yemen, salteh, served in a clay pot. This arrives still boiling; the top is a combination of fenugreek and hulba, a spice that has been hand-frothed until very light and fluffy. It is stirred in when the pot arrives. The dish is a rich concoction of vegetables, lamb, and egg in a lamb broth. The hulba is the Yemen version of salsa and it can apparently be very, very hot. I think I was lucky that it was a bit more on the mild side. The vegetables I uncovered included zucchini and peas and there was a thickness brought about from potatoes. This was served with a different flat bread. Ali, the owner came out to see if I was enjoying myself and told me that this square flatbread was made by a Moroccan woman he knows and is lightly grilled in butter. The richness of the butter helped cut through the spiciness of the dish.
Water is served with sliced cucumbers, the service is exemplary and helpful, and when Ali, the owner, came out to serve the salteh himself (he probably wanted to see the lone, fat white woman who was asking so many questions), I inquired about the potential of fried dough… His eyes lit up and he assumed I knew already what the dish was (since there was nothing like it on the menu). He kissed my hand and told me that he would be happy to prepare any classic Yemen dish for me, whether or not it was on the menu. I am so looking forward to returning. A word on the prices; the current menu prices were exceedingly cheap. Amanda acknowledged that the menus are being re-printed. Currently, appetizers are listed between $1.75 and $3.95 with entrées listed between $5.95 and $9.95. Way too inexpensive if they want to stay in business. My two dishes and coffee with bread came to just over $21.00 and the salteh came home with me for dinner (and probably breakfast). I need to go back with lots of friends to order lots and lots of dishes. One last note: This is a wholly Muslim restaurant and no wine is served.
1098 Sutter Street
(at Larkin St)
San Francisco, CA 94109
Neighborhood: Nob Hill
(415) 441-8832

Tags: Baba Ghanouj, cardamom, clay pot, Coffee, Flatbread, ginger, hulba, Hummus, Lamb, Middle Eastern, paratha, peas, potatoes, Qishr, Raita, salteh, Spicy, tea, Yemen, Zucchini