Thursday, July 29th, 2010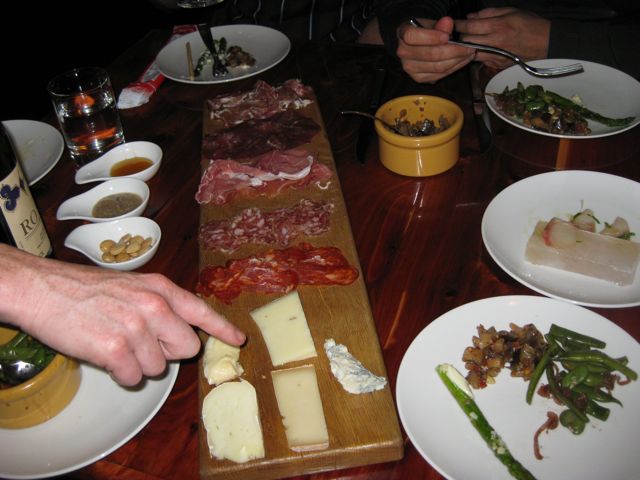 My hairdresser, his boyfriend, and I stopped by Uva Enoteca after a haircut one Monday evening. This is of note as my hairdresser is in Lower Haight and there are only a few restaurants open on Mondays in that neighborhood (we usually go to RNM). The atmosphere in Uva is dark and subtle, warm and inviting. There is a bit of an oddity with the Zeppelin music in the background, but I kinda liked it. As it was my hairdresser's birthday, I brought a homemade cake and the waitstaff were more than gracious in holding the cake for us as well as cutting and serving it after our meal. When we sat, we were given a small bowl of green olives. They were gone so quickly and thankfully, the waitstaff offered more. What *are* those giant, bright green olives?
The three of us started with three cocktails;
~ Prosecco Cocktail with peach bitters and a bit of sugar.
~ Miele Frizzante – Carpano antique, orange, peach bitters, and Heidrun buckwheat blossom mead. VERY odd cocktail; the mead made it seem like a light, fruity hefeweizen. Interesting, but not something I think I'd order again.
~ In Bocca Al Lupo – Lillet blanc, chilies, basil, prosecco and coconut salt. Too much chilies for me; spicy.
They have a very extensive wine list and we let the owner(?) offer a suggestion. He came up with a Barbera d'Alba, "Gisep," Massolino from Piemont.
Loving the nosh, we again put ourselves in the hands of the capable staff; bring on a bunch of meat, a bunch of cheese, and some appropriate side dishes.
We started with the crudo of the day; on that day, tuna with olive oil and salt. As my hairdresser's BF is a professional fish-monger, he confirmed my compliment that it was a great quality fish.
Next the meats and cheeses arrived. They offer various assorted sized plates and offerings and so five of each seemed a good compromise; Prosciutto di Parma, Bresaola from Bernina Montevideo, Coppa di Testa from Boccalone, orange and fennel from Boccalone, and a hot Soppressata from the Bronx. Sorry I can't remember the five cheeses, but I can remember the accompaniments with the cheeses; truffled honey, a lemon/pepper condiment, and Marcona almonds.
Also served was chunks of fresh bread, eggplant caponata (a bit on the spicy side for me but still enjoyable), roasted asparagus with lemon aioli and Parmigiano (very fresh and nicely crunchy with person aioli), and fresh beans with pancetta and onions (I ate most of these, but I am obviously the veggie eater in the group). We should have stopped, but we were intrigued with the Semolina gnocchi with speck. Of all the dishes we ordered, the gnocchi was the least successful. Perhaps I'm spoiled with Sean O'Brien's gnocchi but these were on the gummy side and with the speck and no sauce, way too dry. It needs SOMETHING moist on the plate and there was nothing.
I have to admit that there were a number of desserts which looked intriguing and I wished I could have tried the pumpkin cake with vanilla gelato, apples, saba, and pinenut brittle, but we had this cake I made instead. Again, the waitstaff was amazing and I would go back in a heartbeat.