Tuesday, March 30th, 2010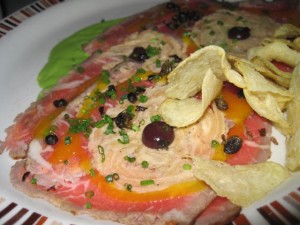 Mission Street Food is a rare restaurant anomaly in San Francisco. Strike that. It is a rare restaurant anomaly anywhere. You see, it is not a full-fledged restaurant (although they are striving towards becoming one). They only operate two days a week — Thursday and Saturdays — out of a dinky and understated Chinese Restaurant, Lung Shan. If you don't have reservations, you are likely to be presented with a line of people, waiting for a table.  It is worth the wait. $5.00 corkage is one of the cheapest in the city, but bear in mind that you are drinking your quaff from tiny Chinese teacups.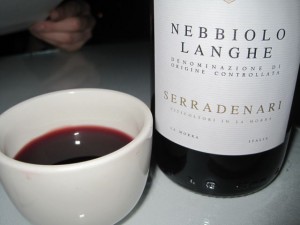 The menu changes every week and the prices are incomparable. The dishes are served family style and easily feed two or three people each. On the evening I finally got my dining buddy, Lisa, to join me, we were intensely lucky to have the menu be geared entirely around Beef Seven Ways (meaning for us – mostly OFFAL!)
Our first course, priced at a mere $10.00, was Mosaic of Carpaccio; New York strip steak and honeycomb trip with a slow-cooked egg, violet mustard, fried capers, and potato chips.  The selection of meats were sliced wafer thin, tender and rich. The only downside of the dish was the accompaniment of the rather pedestrian potato chips. There are easily half-a-dozen different, EASY ways to present a carbohydrate other than opening a bag of Lay's.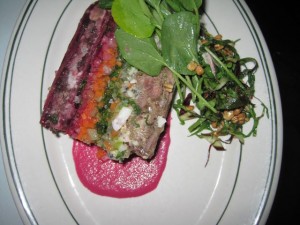 Next up was an Oxtail Terrine, with fines herb gelée, root vegetable brunoise, truffled egg, mixed chicories, puffed barley, and spring herbs. Here is my confession; it was a posted picture of the chef making this very terrine which enticed me to this meal. Despite the varied flavors, this was a very balanced and well-made terrine; fresh and surprisingly light. It made me miss creating my own terrines. Quite a deal at $9.00.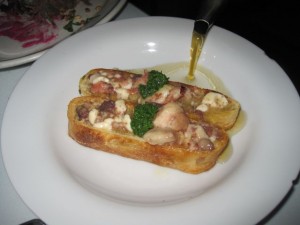 Lisa is a sucker for marrow bones and their presentation of Beef Consommé with marrow butter toast and persillade might very well have been the dish of the evening. Two long croutons were presented with the broth poured tableside. Pacing ourself because we had ordered the entire menu (and, admittedly, packed up some of the terrine to take home), this was a course we finished easily and eagerly. $8.00.
Based on the menu description, the Surf and Turf was quite possibly destined to be Lisa's favorite; simmered Atlantic skate with crispy sweetbreads with asparagus, crushed pea, and sea urchin emulsion. We both adore sweetbreads AND skate but this is the one dish which somewhat faltered for me. The sea urchin emulsion on the sweetbreads worked extremely well but the crushed pea and asparagus sauce for the skate was heavily spiced with something that bit back. I was happy with the few bites of pure fish I could get, but it was a discordant flavor against the light, engaging foam on the sweetbreads. There was nothing that brought these two main ingredients together. But Lisa liked them both; $12.00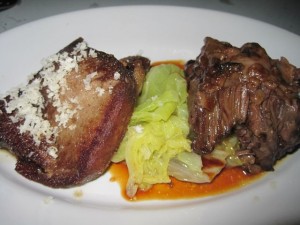 Tongue and Cheek — hilariously entitled and delectable to behold — continued our beefy endeavor. Seared tongue, braised cheek, savoy cabbage served with a demiglace and fresh grated horseradish. The intense richness of these meats precluded us from taking much more than a few bites, reserving the bulk for left-over status. The cabbage was a brilliant, somewhat palate-cleansing attribute which helped cut through the fatty texture of these meats. $11.00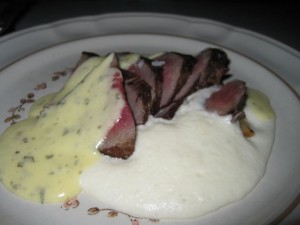 Served last in the bovine extravaganza, was Aged USDA Prime Ribeye with potato espuma, charred scallion pickle, and béarnaise sauce. While Lisa is a sucker for all things with sea urchin, for me, it is all about a good béarnaise sauce. The potato espuma was almost non-existent in its fluffiness, practically disappearing when it hit the mouth. I was ready to scrape my fingertips through the béarnaise but thankfully, the meat was an excellent tool for job in lieu of my fingers. This was the most expensive dish of the evening, a whopping $14.00
This was a rare evening at Mission Street Food in that the only "dessert" which was offered was Sweet & Sticky Glazed Habañero Jerky. I suppose they wanted to stay within the Beef theme, but our server advised us that as opposed to a delightful sweet finish, the habañero predominated the flavors, providing a mostly spicy finish which we opted to avoid. When all was said and done, with tip and wine, the cost of this meal PER PERSON was around $60.00. Had I thought to bring a wine from my collection, we would have gotten it around the $50 per person mark. For the quantity and quality of food offered, there truly is no better deal in town; as long as it is a Thursday or a Saturday. Oh, and of special note, they serve late. Up until midnight!