Tuesday, April 27th, 2010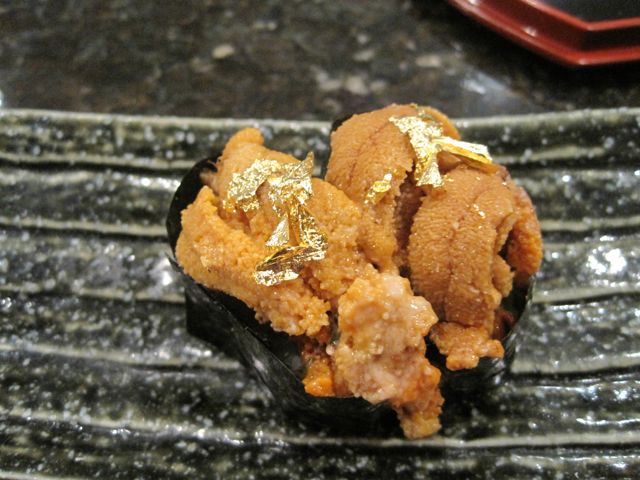 I like to delude myself that I have a pretty decent palate. And for some things, I think I do. But when it comes to sushi, I can't hold a candle to my buddy, Lisa. This is a woman who — if money were no object — could eat at the likes of Urasawa six days a week and not grow tired of it. So it was sort of ironic when we went out to dinner one evening at a favorite noodle joint, Tampopo, that after we left (with full bellies, mind you!), we saw the newly-opened Sushi Aka Tombo with only a few people inside. Well Lisa rates every sushi restaurant on their Uni so I suggested we go in just for a single order; sort of to determine if there was a reason to go back. Let me tell you, not only do I have a reason to go back, but I am not sure I can find better sushi in San Francisco.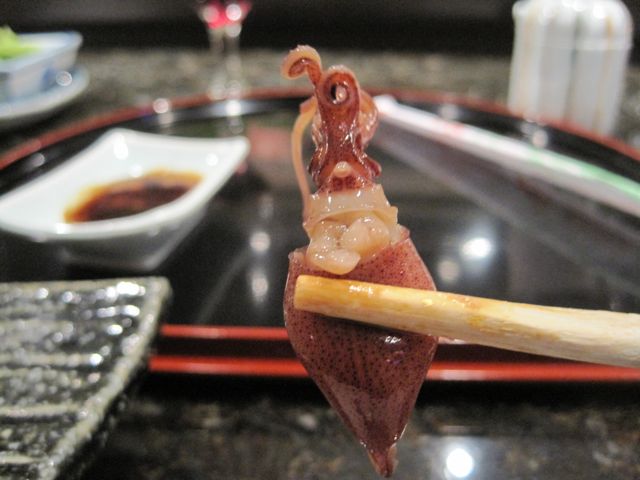 This review is, in fact, two separate visits. The first was Lisa and Cassy and I, sauntering in at almost ten in the evening, ostensibly to just try the Uni which, elegantly bedecked with 24k gold leaf was astonishingly fresh. But there were a few other treats being offered so we just *had* to stay. Baby squid were a surprise offering and proved to be very tender and bright.